RWSERVE SystemD
Journald server service
System software
SystemD [installation · systemd] This note documents how to use the SystemD service manager to enable unattended background execution of the server software, and how to use the JournalD service to view and manage the server's logged output.
Floodplain elevation
The maximum elevation of the flood waters on December 31, 2005 varied along its seventeen mile course.  Close to the Russian River the floodplain attained elevations of 70', 71' and 72' throughout most of the area north of Sebastopol, while at its southern extreme near Rohnert Park it reached elevations of 90', 91' and 92' in large contiguous extents, with isolated pockets of 93' and 94' observed along Gossage Creek.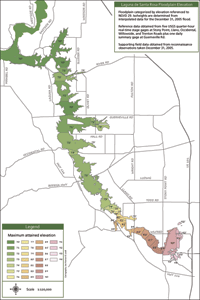 No personal observations of flooding east of Highway 101 were recorded; however, residents of Rohnert Park and Cotati reported widespread neighborhood flooding in the middle of the night, and woke to see debris lines one or two feet above the confined creek channels of the Laguna de Santa Rosa.
The Table lists the maximum attained elevation of the floodplain throughout its entire extent. The area of each attained elevation was determined and its coverage percentage reported.  It is no surprise that the 70–73' range represents 76% of the floodplain.  New for this event, compared to other historic events of this size, is that the 90–92' range near Rohnert Park represents 8% of the floodplain.  This sobering fact has implications for development in the area.
Elevation

Location

Acres

Percent

70

1) Mark West Creek floodplain from Russian River to Lomita,

2) Windsor Creek floodplain at its confluence with Mark West Creek.

1936

27%

71

Laguna-Mark West complex below Lomita to River Road.

1129

16%

72

1) Laguna-Mark West complex south of River Road causeway,

2) Rued Creek near Oakwild Lane,

3) Bailiff Creek at Laguna Dairy,

4) Santa Rosa Creek near Willowside Rd,

5) Laguna Wildlife Area and Irwin Creek at Sanford Road,

6) Occidental Pond, Duer Creek, Meadowlark Field, Brown Farm.

1850

26%

73

1) Ponds east of Slusser Rd,

2) Abramson Creek northeast of levee,

3) Former Santa Rosa Creek south of levee,

4) Irwin Creek east of Sanford Rd,

5) Laguna behind the Occidental Rd causeway,

6) Laguna along Cooper Road from Windmill Cr to Roseland Cr.

471

7%

74

Laguna at Lower Alpha Farm.

87

1%

75

Laguna Great Oxbow area.

35

76

Laguna Great Oxbow area.

37

1%

77

Laguna near the end of Meier Rd.

26

78

Laguna near the end of Morse Rd.

13

79

Colgan Creek north of Meadowlane Ponds.

75

1%

80

Blucher Creek confluence with the Laguna at Todd Rd.

32

81

Blucher Creek confluence with the Laguna at Todd Rd.

33

82

Blucher Creek confluence with the Laguna at Todd Rd.

78

1%

83

1) Blucher Creek west of Old Gravenstein Hwy,

2) Turner Creek south of Meadowland Ponds.

54

1%

84

1) Backwater of Blucher Creek at Gravenstein Hwy,

2) Laguna west of Llano Rd.

23

85

Laguna east of Llano Rd.

104

1%

86

Laguna at western terminus of Wilfred Ave.

97

1%

87

Laguna at Sunland Ave.

143

2%

88

Laguna at Morrison Dairy.

152

2%

89

1) Laguna at Stony Point Road bridge,

2) West of Bellevue-Wilfred channel.

76

1%

90

1) Bellevue-Wilfred hayfield from RP Expressway to Whistler Ave,

2) Corn field south of Laguna and east of Stony Point Rd,

3) Western edge of Rancho Verde along Hinebaugh Creek.

379

5%

91

1) East of Bellevue-Wilfred hayfield,

2) Business park northeast of Hinebaugh Creek bend,

3) Central part of Rancho Verde,

4) Gossage Creek area along Helman Lane and Airport Rd.

129

2%

92

1) Langner-Wilfred crossroads area,

2) Local street flooding at Redwood Drive.

89

1%

93

Gossage Creek near Helman Lane.

11

94

Ponding behind Lowell Ave and Helman Lane.

3