RWSERVE SystemD
Journald server service
System software
SystemD [installation · systemd] This note documents how to use the SystemD service manager to enable unattended background execution of the server software, and how to use the JournalD service to view and manage the server's logged output.
Observations on the data
The antecedent conditions include the major storm that occurred on December 27–28 with 2.59 inches of precipitation.  Soils throughout the watershed were already saturated from that storm. That storm by itself was enough to cause Bellevue-Wilfred to overflow, closing the Rohnert Park Expressway. Although the Laguna gauge at Stony Point Rd and the Colgan Creek gauge at Llano Rd had returned to more moderate levels prior to the start of the December 30th rainfall, the same was not true north of there.  The Laguna at Occidental Rd was still at 62.81—which is 7.52 feet above its mid-December stage of 55.29—when the rain began at 1 A.M. on December 30.  Willowside Rd also had returned to more normal levels.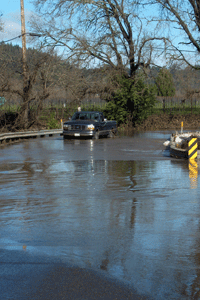 The biggest impact of the December 27–28, 2005 event was the arrival of the Russian River crest from Healdsburg which coincided with the start of the December 30 rainfall.  The gauge near Mirabel Heights, which is influenced by the Russian River backwater effect, was at 56.20 when the rain began, 16.79 feet above its mid-December stage of 39.41.
Thus, with the Laguna near Sebastopol at capacity, and with the arrival of the Russian River flood crest at the Forestville Narrows, the stage was set for a major event. That occurred when the 5.27 inches of rain—more than 70,000 acre-feet of water—fell over the 162,444-acre Laguna watershed during the next 30 hours.
Other data
The USGS Water Data Report for 2006 reports that on January 3, 2006, the sediment load at the Mirabel station reached an extreme (for the October 2005–October 2008 period of record) of 2,130 tons in a twenty four hour period. At 1.35 tons per cubic yard, that is equivalent to 158 averaged sized (10-yard) dump trucks filled with sand.