Unicode BLUEPHRASE
Escape manuscript character
Insert sequence
unicode [bluephrase · escapes] Embed a Unicode sequence into a manuscript when a special character is not normally visible, or is not easily entered through the keyboard.
Road closures
Bridges and roads were closed from early in the day on December 31st through late in the evening on January 2nd—with some smaller bridges remaining closed much longer. Areas downstream along River Road were cut off from much of the world. Within the Laguna de Santa Rosa watershed, road closures were less dramatic, although getting across the Laguna itself was impossible at Stony Point, Llano, Todd, Highway 12 and Occidental roads. Only Guerneville and River roads remained open throughout the flood.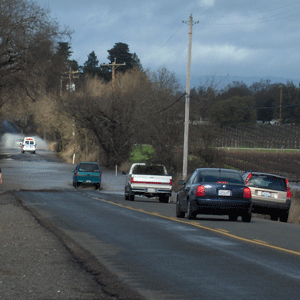 More important than the inconvenience to residents, the closures made it difficult for emergency service personnel to move to areas where they were needed.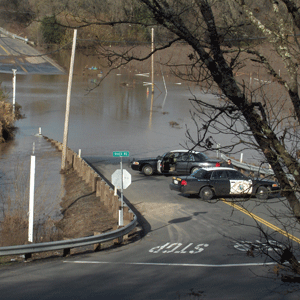 CHP stationed personnel at flooded spots along the Russian River and here at Slusser Rd and Mark West Creek.

Emergency personnel assist driver stranded in the floodwaters of Sanford Road near Irwin Creek and the Laguna de Santa Rosa.